2013 was a successful contesting year for the Band having been invited to the National finals in September and placed 6th in the 2nd Section. We were on a roll! Why not have a go at the big prizes on offer at Butlins. EESB had never played at the Mineworkers National Open Brass Band Festival held in Skegness, in mid-January(2014), what could be more appealing. So following a short playing break over Christmas, we got stuck into 'Kenilworth' the 2nd section test piece. On Friday 17th January we set off for bracing Skeggy. [...More]
There was lots of admin to be taken care of before the big day and our thanks go to all involved, especially Paul Dewis our contest secretary. Paul organized our self-catering accommodation in Gold apartments and furnished us with information about 'Splash World' and all the other delights our Butlins weekend had to offer. The drive up to Skegness was one of the least appealing aspects of the weekend and the weather at the start of the journey confirmed our concerns. After a couple of hours of torrential rain, the weather eased up.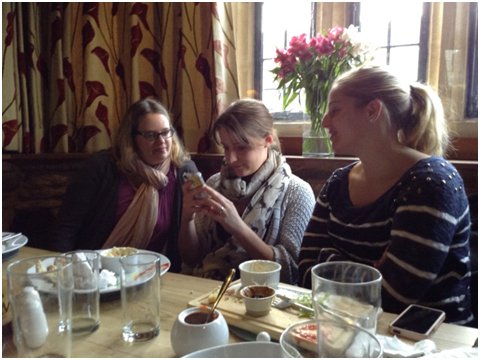 As we hit the last couple of miles on the winding A52,in the distance we could see the white top of the Skyline pavilion and above that the faint glimmer of a rainbow. Was this a sign of things to come and the pot of gold we were seeking? Our expectations were high.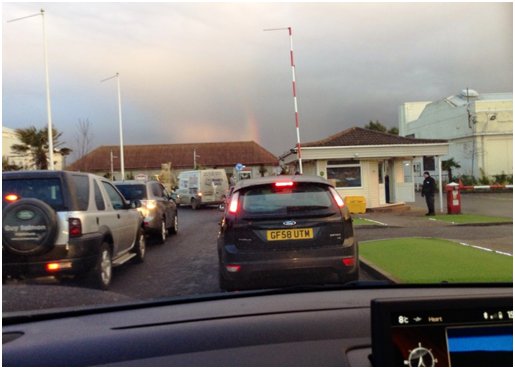 We arrived at the 'resort' in small groups throughout the afternoon and early evening. At 9.00pm with yellow wrist bands on, we met up in the Crazy Horse for a final practice session and to make sure instruments were all in good order for the contest in the morning. Afterwards some went back to their rooms some went on to sample the evening entertainment in the big shed with two bars called 'Reds'. Some even joined in with the live show on stage with much vigor and enthusiasm. A special thanks to our guest players at this point. The Weekend had begun.
During the early hours of Saturday morning, the now legendary 'Born Free' played on a Tenor, were heard by those still awake. The light sleepers dreamt they were in some kind of Brass Band fantasy land. Welcome to Butlins 2014. The next morning at 8.30 we tuned the TV to channel 800 to watch the draw for all sections 'Live from Centre Stage'.This was a new experience for most of us, normally only familiar to the contest secretary. We drew number 5, right behind one of the favourites. Playing commenced at 10.00am at Lakeside. At 10.30 we gathered together outside our apartment block for the 100 yard walk to the 2nd section contest venue at Lakeside. There was a large white tent outside a large grey shed. Once in the tent, we warmed up and got ready to move across to the shed and sign in. We got on stage, which was a white line separating us from the first row of chairs by about a foot. We sat down and waited for the whistle. Sometimes the whistle goes before everyone is ready sometimes there is a long silence. Often that is because the previous band has given an outstanding performance or is getting lots of tips from the adjudicators on how to improve before their next contest. The whistle blew. This was it we were ready to make our Butlins debut.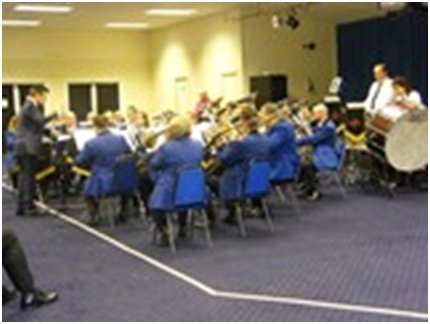 We started with a very good opening. All soloists played well and we all came together to a very dramatic closure. We felt that we had given our best in a very competitive field of wide ranging bands. It was now down to the Adjudicators. The results would be given at 8.00pm in Reds.
One of the attractions of Butlins Mineworkers is there is always something to do. Some stayed in Lakeside to listen to the competition or moved to other section bands at their venues. Some put on their bathers and went to Splash World. Some went to the sports bar or other bars to bathe the throat. There were at least 4Bars to rest.. Some went home.. All of us were awaiting the results.
So at 8.00pm all first to fourth section bands met in Reds to find out if they were in the prizes. We had not made it into the top finishers, we all felt a little disappointed, never mind we were having a good time and we did play well. For the bands whose results are not announced on stage a representative is sent to the contest office to pick them up along with the remarks. With eager anticipation Paul arrived with the envelope. There it was - 13th with Dronfield Genquip. Some swore, Some went into shock, Some could not believe it, all of us were disappointed. Only one thing for it re-group and head for the bar. We were not alone in our thoughts. Many other bands were doing the same thing including some members of Dronfield band who were in the queue right next to us. We had gone to Butlins for a number of reasons. One of those was to say farewell to Lewis and Hazel Shaw who were heading back home and would be back playing with Dronfield next week. What a small world this Banding is. There was the rest of the evening to get through and of course the Championship Band Entertainment contest on Sunday.
During the early hours of Sunday morning the dulcet tones of 'Born Free' could be heard again along with the opening of 'Jurassic Park' and a number of Hymn tunes. Some bands need the practice whatever the time of day. On Sunday morning the Entertainments contest started in Centre Stage compared by Frank Renton who had been in the box all day adjudicating the 1st section. Well done to Sandhurst Silver who won. We listened to Jack Smith, our conductor who was playing with East London Brass. ELB also came thirteenth in the Championship section. Some very fine playing was heard from all the bands taking part and congratulations go to Flowers who took home the top prize. Grimethorpe gave a concert before the results of the championship section.
What a wonderful banding weekend was had by all those attending. Of course there was disappointment with our results, but also sadness that we say farewell to Lewis and Hazel. Good luck to you both, see you at Cheltenham!
Pete Hicks (trombone).
[...Less]