About Us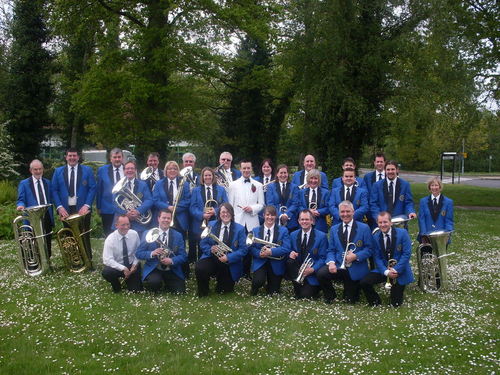 Epsom & Ewell Silver Band is a brass band based in Epsom, Surrey. We compete in the first section in the London & Southern Counties region, and the band is also a member of the
Southern Counties Amateur Band Association.
New players are always welcome. View our current
vacancies
here. We rehearse on Monday and Wednesday nights from 8pm to 10pm at our band room in Horton Country Park, Epsom, KT19 8PL. If you would like to come along, please
contact us
first to make sure we are rehearsing that evening.
Latest News (see all our news here)
A great result at the area contest!
On Sunday 22nd March we took part in the London and Southern Counties area qualifiers in Stevenage. It was our first year back in the First Section and in recent years we have struggled when making the transition from the more forgiving Second Section. Our piece was Philip Sparke's 'A London Overture', which gave us a stern test. Having been drawn first, the adjudicators' comments were critical but fair and they noted that we had laid down a good benchmark for the section. We ended up being ranked fifth, which was a great result for us and a huge improvement on our previous rankings in this section. This contest was also Jack Smith's final act as our Musical Director and it was a fitting end to his tenure. In the three years he has been with us, he has built on the great work done by his predecessor Ted Howard and pushed us into the top half of the First Section table. We are grateful to him for his effort and commitment and we hope that our next MD appointment is as successful. Auditions are in progress this month and we will announce our new MD soon.
EESB on the hunt for a new Musical Director!
We're very sorry to have to report that our Musical Director, Jack Smith, will be leaving the band after the Area contest in March. Jack is relocating to another part of the country to pursue career opportunities. We've had a fantastic couple of years with Jack and will be very sorry to see him go. This means that we will be looking for a new Musical Director to take over as soon as possible after March. We'll need somebody able enough to handle both the intricacies of 1st Section contesting and the general requirements of our formal and informal engagements, including at least two full concerts a year. We'll also need somebody committed enough to manage two rehearsals a week (Monday and Wednesday evenings) alongside any extra rehearsals and all engagements. If you are interested in becoming our new MD and believe that you fulfil our requirements, feel free to get in touch, either by phone via our dedicated line – 07908 855393 (please leave a message if there is no answer!) – or by e-mail to epsomandewellsilverband@gmail.com. Or you could fill in the contact form on the right hand side of this page, making sure you include some contact details.

The closing date for applications is Friday 27th March. So please get in touch if you have any questions. We'll be very happy to hear from you.
A New Year and a New Section!
Thanks to a good performance at the Area contest in Stevenage last year, the band have now been promoted to the First Section. We've flirted with the First Section a couple of times in recent years. It's a big step up and finding the consistency to consolidate a position in this part of the league table has been the stumbling block of many a band. We're hoping to improve on recent attempts, though, and this will require not only a big effort from the existing players but also some solid recruitment. We're looking for Bb cornets at the moment, especially some Front Row players. If you're a good quality cornet player and you think you'd be an asset to a band that wants to push on, come and see us for a blow. We'll also be looking to appoint a Principal Cornet, so this could be a big opportunity for you. Use the contact form to let us know if you are considering joining. Or call the band phone on 07908 855393.