EESB recently made their annual pilgrimage to the shrine of London & Southern Counties banding that is Stevenage Arts & Leisure Centre, for the regional championships on Sunday 16 March. The band had enjoyed bringing the test piece, "Chaucer's Tunes" by Michael Ball, to life, with its vivid depictions of literary character, and many varied musical moods, and we were looking forward to giving our performance, which we hoped would offer something a little different for all to hear and enjoy. Expectation was high following our appearances at the National Finals last September and at Butlins in January, with online brass band magazine 4barsrest.com predicting us as likely winners for the contest - so not too much pressure, then... [...More]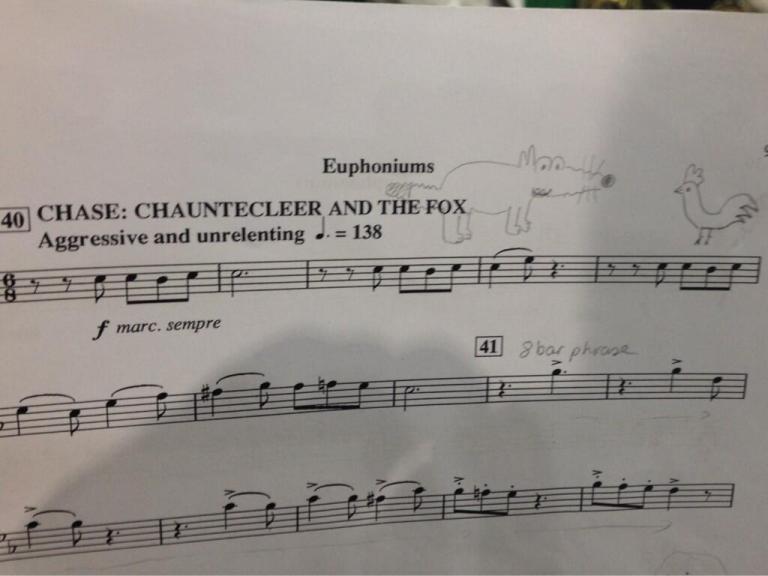 With a good run-up of rehearsals behind us, and the knowledge that we wouldn't have to get up too early (playing on the Sunday morning, the eighteen bands competing in the Second Section at Stevenage would be drawn in two ballots, of which we were fortunate to be placed in the second), morale was high on the contest day. On arrival at the leisure centre, a brief warm-up and top-and-tail rehearsal was enough to refresh the memory, settle at least a few nerves, and also highlight how warm it was throughout the centre - an unexpectedly mild turn in the weather didn't seem to have filtered through to the geyser in the boiler room (whoever he was), and the whole building was warm, uncomfortably so in parts. Knowing how warm it would be under the lights on stage in the Gordon Craig theatre, we somewhat reluctantly took the decision to perform in shirt sleeves, and leave our heavy woolen jackets behind. Whilst the visual effect would not be so impressive, it was felt that it was more important that we should feel more comfortable in order to play well - and we certainly intended to show we meant business by the way we played! (We also appeared to set a trend, as most bands in the championship section, which followed later in the day, also took to the stage without their jackets).
Having been drawn to play fifteenth out of the eighteen bands, it felt like rather a long wait to play; we eventually walked on to the stage around 1 p.m. - quite a few of the audience left at this point to get their lunch, it seemed, but we had a few stalwart supporters in the 'house', including ex-players who had made the journey from various places more northerly even than Stevenage in order to cheer us on. Our performance got off to a flying start, at a tempo which surprised everyone on hearing the recording subsequently - this wasn't criticised by either of the two adjudicators, however, and if anything seems to have helped catch their attention early on. Although it was not a blemish-free performance, the tricky changes of mood and tempo were navigated safely by all, and we built to a rousing, confident finish. MD Jack Smith was so pleased with how it had gone that he seemed at a loss as to what to do afterwards - we had done what we set out to do, to reproduce on stage what we had worked on in the band room.
Time for a cooling beer...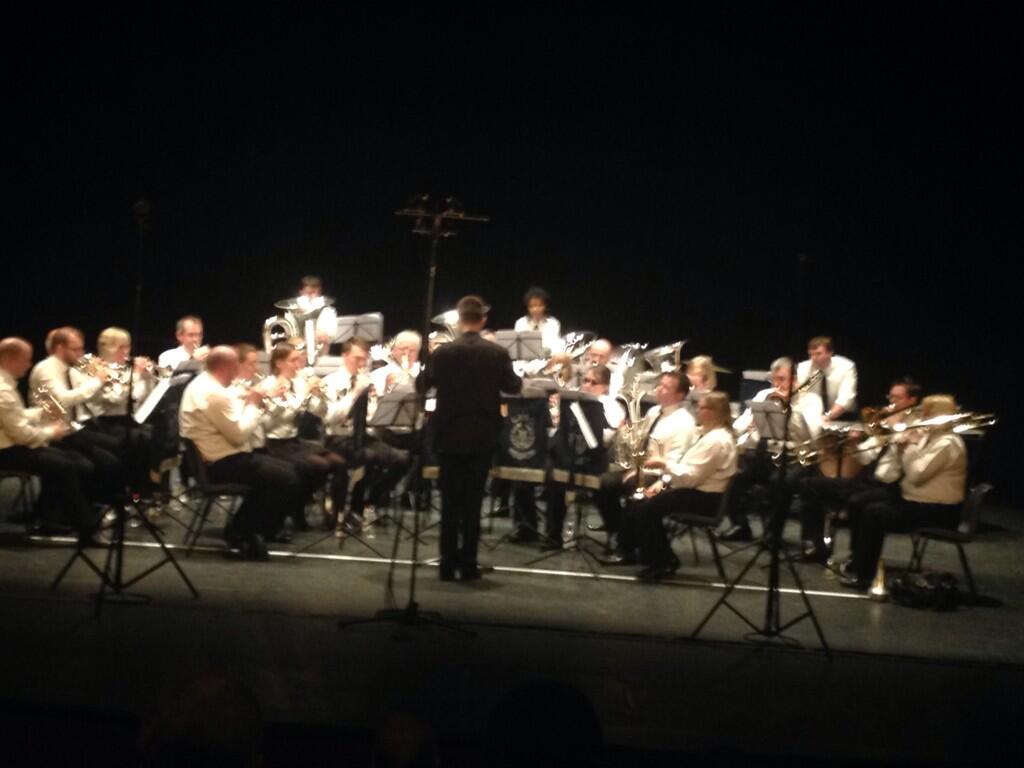 The results ceremony was rather interesting, as for the first time at Stevenage, we had been judged not by one, but by two adjudicators: Welshman Lyn Morgan (a stranger in these parts) and Linda Cole, an experienced conductor and band trainer with more local connections, but less experience in the box. Both had clearly given much attention to the performances, and thought to their remarks and the placings they had given. What was also slightly unusual this year was that the placings from fourth upwards were announced, rather than the top six placings - one of those times when you want to hear your band announced, but not too soon... Our performance had attracted a great reception in the theatre, and from various commentators - some of whom still predicted EESB as winners, so it was something of a disappointment to hear our name being called out first - in fourth place. (Interestingly, there seemed to be an audible intake of breath from various quarters at this pronouncement, and not from our supporters either).
Whilst it was a shame not to be invited for a second year to compete at the National Finals in Cheltenham, where we would have relished the opportunity to improve on our performance in 2013, we could at least take heart in having played very near to (if not right at) our very best on stage, and having given a committed performance of which we could be proud. Following some beermat arithmetic later on, and consultation with the mystical runes known as "The Grading Table", we also worked out that the band would be promoted back to the First Section (national grading) from 2015, which pays tribute to the hard work of all our players, and their continuing development under the direction of Jack Smith. Besides this elevation of status, playing in the First Section means we won't have to get up early on a Sunday morning for next year's trip to Stevenage; surely a bonus in itself...
Jack Smith MD.
[...Less]