About Us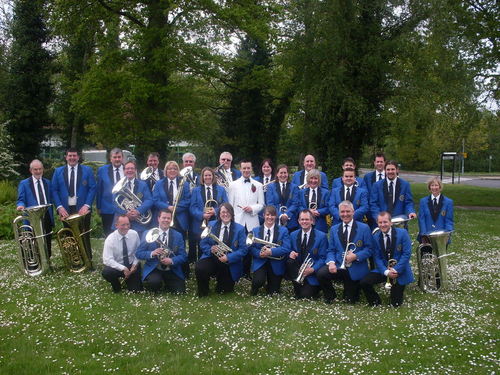 Epsom & Ewell Silver Band is a brass band based in Epsom, Surrey. We compete in the first section in the London & Southern Counties region, and the band is also a member of the
Southern Counties Amateur Band Association.
New players are always welcome. View our current
vacancies
here. We rehearse on Monday and Wednesday nights from 8pm to 10pm at our band room in Horton Country Park, Epsom, KT19 8PL. If you would like to come along, please
contact us
first to make sure we are rehearsing that evening.
Latest News (see all our news here)
A New Year and a New Section!
Thanks to a good performance at the Area contest in Stevenage last year, the band have now been promoted to the First Section. We've flirted with the First Section a couple of times in recent years. It's a big step up and finding the consistency to consolidate a position in this part of the league table has been the stumbling block of many a band. We're hoping to improve on recent attempts, though, and this will require not only a big effort from the existing players but also some solid recruitment. We're looking for Bb cornets at the moment, especially some Front Row players. If you're a good quality cornet player and you think you'd be an asset to a band that wants to push on, come and see us for a blow. We'll also be looking to appoint a Principal Cornet, so this could be a big opportunity for you. Use the contact form to let us know if you are considering joining. Or call the band phone on 07908 855393.
Christmas Concert - Sunday 7th December 2014, 7pm
It seems like only yesterday that we were finishing our last carolling session at Hampton Court and putting away the Christmas music for another year! But it's getting on for that time again already. Due to the success of last year's concert at Cuddington, organised by the Cuddington Residents Association, we've decided to join up with them again this year. So our Christmas Concert will take place at St Mary's Church, The Avenue, Worcester Park KT4 7HL on Sunday 7th December 2014. No doubt there will be the usual mix of entertaining music (seasonal or otherwise) and some carol singing. Not to mention some top-notch refreshments!
Tickets will be on sale on the door for £10 each but EESB supporters will be able to take advantage of a discount if tickets are booked in advance. So if you're a regular at our concerts but aren't on our mailing list yet, then let us know and send us your details. That way we can send you an EESB order form when the time comes. Otherwise you'll pay the full price on the door. Hopefully we'll see you there.
Epsom in Harmony - Friday 26th September 7.30pm, Oaks Hall, Duchess Stand, Epsom Racecourse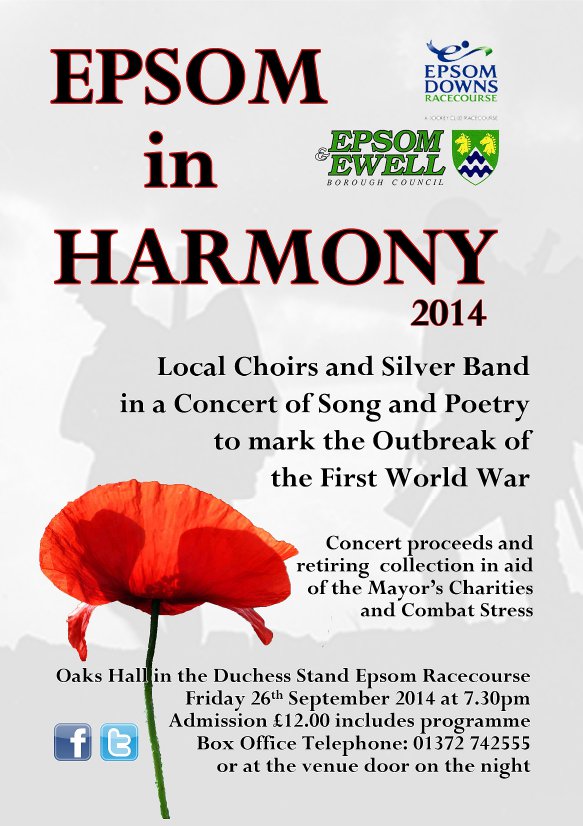 "Do you like variety in your concerts? Do you yearn for brass band music alongside choral, possibly with some poetry thrown in? Then this is the event for you. We are again taking part in the Epsom in Harmony event at the Epsom racecourse on Friday 26th September. The event happened two years ago as part of the borough celebrations and it has been revisited this year to mark the anniversary of the start of the First World War. We are joined by seven local choirs - Epsom Male Voice Choir, Epsom Choral Society, Soundbytes, the Ewell Ladies, The Downsmen, Sponsalia and children from the Rosebery School. The music will be evocative of the time and there will be poignant contemporary poetry readings too. If you want to come to the event, tickets are available from the Playhouse box office at £12 each (or visit their website here). They should also be available on the door, providing it doesn't sell out in advance. We hope to see you there!"